WAN company has been operating on the transportation market since 1997. Our success is a result of continuous development, introduction of new solutions, maintaining high quality services and modern fleet.
The main purpose of our company is to provide safe and efficient transportation services. We specialize in the trucking field, providing comprehensive services for both full truckload (FTL) and less–than–truckload (LTL) shipments within the entire European Union.

Truck trailer
37 Euro pallets up to 24t loading capacity
Length – 7,7m + 7,7m
Width – 2,47m
Height – 2,75 – 3,15m

Semi-trailer truck
33 Euro pallers up to 24t loading capacity
Length – 13,6m
Width – 2,47m
Height – 2,6 – 3,00m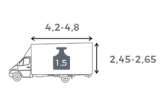 Tarpaulin-covered delivery van
10 Euro pallets up to 1.5t loading capacity
Length – 4,8m
Width – 2,22m
Height – 2,45 – 2,65m
Our priority is to take care of our customers and our relationship with them, in order to ensure that the transportation we provide meets their expectations and contributes to a long–lasting and profitable business relationship.
Customer oriented approach
The basis for realizing efficient transporta6on is understanding the customer's needs. Therefore, our employees thoroughly discuss them with the customer, then try to adjust the type of transport to his expectations in the best possible way. Providing all the help and advice, they offer a solution that will benefit the customer's company, not only financially, but also in terms of logistics.
Benefits
– Timely delivery and security of goods
– Access to information about the position of the vehicle
– Constant monitoring of shipments
– Direct and easy contact with the person handling your transportation